The Puerto Rico: An Island of Sustainability (PRIOS) project was started in 2001 by Prof. Chertow with a short-term goal of identifying sustainable development opportunities with the potential to improve Puerto Rico's competitiveness and attraction as a business location, and a long-term goal of developing and testing theories and methods in the area of industrial symbiosis. Industrial symbiosis refers to the shared management of resources among a group of geographically-proximate but distinct firms, often in different industries.
Puerto Rico was chosen as the site for this research for several reasons:
As an island, clear boundaries make the tracking of material flows on and off the island simpler than in other geographic settings.
It is very industrialized with a recent history of development dating back to the 1940s.
It falls under US federal jurisdiction, making information more readily available than in most of its Caribbean island neighbors as well as many other countries.
Between 2001 and 2008, some 30 research projects have been conducted ranging in scope from single firms to industrial parks to military installations to whole industrial sectors.
Puerto Rico: An Island of Sustainability study sites 2002-2008
Groups of firms participating in industrial symbiosis are referred to as industrial ecosystems. Two nascent industrial ecosystems were uncovered and studied in detail by members of our research group.  Barceloneta is a single-industry dominated cluster based on the importance of the pharmaceutical companies located there.  Guayama is a multiple-industry cluster with representation from wastewater treatment, power generation, refining, and several other sectors.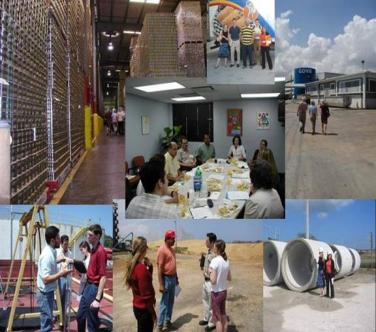 PRIOS field trip site visits to businesses around Puerto Rico by the Yale student teams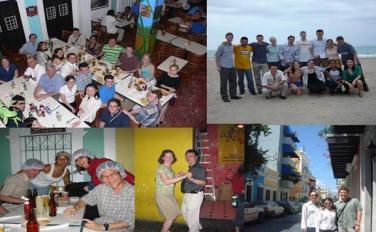 PRIOS field trip after-work activities by the Yale student teams
Barceloneta, in the north of the island, is home to a cluster of pharmaceutical manufacturing facilities that engage in utility sharing (wastewater treatment), service sharing (hazardous waste recycling and management) and byproduct exchanges with other industries. The cluster sits above the island's most abundant aquifer system.
At the end of the 1970s, two cooperative agreements among the firms were launched. One involved shared financing and management of the Barceloneta Regional Wastewater Treatment Plant (BRWTP) by the water utility and a group of eight private companies. The eight companies formed an industry Advisory Council for this arrangement. It provided a forum for frequent discussion about issues of common concern among managers of the member facilities. The council served an important function of institutionalizing a "culture of cooperation" among members, such that members evaluated and promoted numerous proposals for IS-type projects, such as shared cogeneration. The other arrangement involved shared services for hazardous waste treatment and solvent recycling with a single supplier (Safety-Kleen). Some companies later developed byproduct exchanges to reuse fermentation residues, recovered solvents and treated sludge from the BRWTP. At the end of 2006, Safety-Kleen closed its operations on the island and the Advisory Council disbanded. Many byproduct exchanges are ongoing and several firms now perform waste treatment and reuse activities in-house.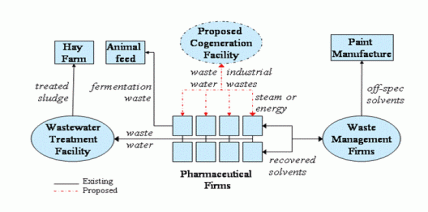 Industrial ecosystems in Barceloneta, Puerto Rico in 2006
Guayama, in the south of the island, is home to a group of firms in diverse industries with a petrochemical refinery, pharmaceutical manufacturers and a coal-fired power plant. These firms engage in byproduct exchanges with each other and other firms located outside of the immediate region.
The AES power plant began operating in 2002. Its siting in Guayama was conditional on its ability to use treated wastewater from the Guayama Regional Wastewater Treatment Plant as its primary water supply because of regional water scarcity. It also provided co-generated steam to the Chevron-Phillips petrochemical facility. AES recently launched a business unit to market its ash byproducts to industrial landfills to stabilize liquid waste and to road and other construction sites as aggregate material. AES is the anchor of the Guayama exchanges and has adopted a position in which they are continuously looking for IS opportunities with others on the island. Their presence has also raised consciousness about IS in this region, and a few neighboring firms are also pursuing IS-type synergies.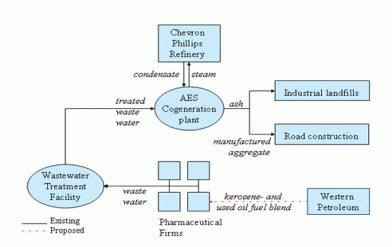 Industrial ecosystem in Guayama, Puerto Rico in 2007
Articles, Reports, Multimedia
Our research has found that as a result of the island's high energy and transportation costs, limited natural resources, tightening environmental regulations, and increasing public pressure to decrease pollution, many industries in Puerto Rico have embraced innovative, collaborative solutions to resource management that are examples of industrial symbiosis. In addition, the findings suggest that the environment is conducive to the further application of industrial ecology principles. Highlighted reports are available for download.