Our team consists of the Center for Industrial Ecology of the Yale School of Forestry & Environmental Studies; The Kohala Center, a not-for-profit organization dedicated to science education, civic engagement, and the preservation of indigenous knowledge on Hawai'i Island; and the Institute of Pacific Islands Forestry, a research program of the U.S. Forest Service located on Hawai'i Island.
Principal Investigator
Prof. Marian Chertow, Yale F&ES is an expert in waste management and industrial ecology. She is the PI, responsible for overall coordination and decision-making. She recently completed a grant called "Waste and Material Flows in Oahu" sponsored by the Hawai'i Community Foundation and has worked with The Kohala Center and County of Hawai'i since 2006.
Co-Principal Investigators
Prof. Karen Seto, Yale F&ES, is a geographer by training and an expert in environmental impact analysis of urban land-use change, monitoring and measuring urban form and growth patterns, and forecasting urban growth.
Dr. Kamanamaikalani Beamer, formerly of the The Kohala Center, was a recent Mellon-Hawai'i Postdoctoral Fellow. He is an expert in Native Hawaiian land tenure systems. He now has an informal relationship to the project as he has accepted a job with the Kamehaha Schools on Hawai'i Island.
Dr. Christian Giardina, U.S. Forest Service, is an expert in nutrient cycling, restoration of ecosystem processes with related modeling and synthesis, and climate change impacts on forested ecosystems.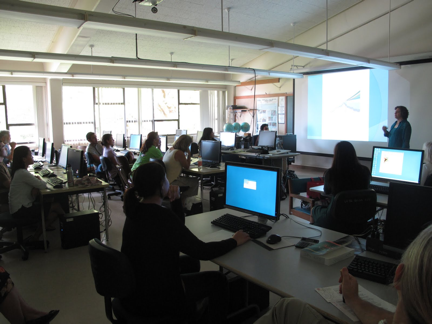 PI Chertow presents preliminary study results during a public lecture at the University of Hawaii-Hilo.
Graduate Students
Ezekiel Fugate, Yale's School of Engineering and Applied Science
Srinath Sabapathy, Yale School of Forestry & Environmental Studies
Kasey Jacobs, Yale School of Forestry & Environmental Studies
Angela Capogrossi, University of Hawaii-Hilo
Danielle Nabbie, University of Hawaii-Hilo
Keahiahi Long, University of Hawaii-Manoa
As part of a Spring 2010 semester course on industrial ecology co-taught by PI Marian Chertow and senior advisor Thomas Graedel, 12 graduate students from Yale University's School of Forestry & Environmental Studies (F&ES) conducted projects on the material and energy flows of the island. Teams were responsible for conducting interviews with relevant entities on the island and collectively interviewing approximately 40 representatives of key organizations.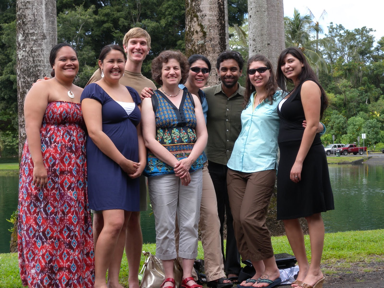 This project is supported by a grant from the National Science Foundation.